You can check all the played Music Killer Radio Shows and the tracklists on Music Killers in the specific profiles.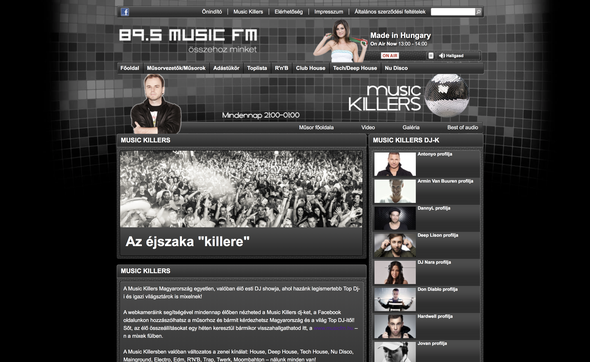 ---
After some struggle with youtube my promo clip is online. Some little impressions of different shows in Germany, Switzerland and Hungary.
---
I am really happy to start the year 2018 with 16 shows in Q1. In relation to my first DJ year 2017 still 10 shows more in Q1.
---
More than 5K follower on Youtube and Soundcloud in only one year, basically because of my mixsets, my style of mixing, my sense for keys, and mood creations. I am accepting "the next step" and I am saving currently for better studio equipment. Gig for gig, buck for buck. I hope I can start this year 2018.
---
After my debut in Budapest, I play on 89.5 Music Fm the freshest and best Deep House and Club House tracks. Every saturday I open the Music Killers Weekend Show. Start: 20.00h local Budapest time.

Listen live here ► Listen Now 89.5 Music Fm
---
This is my very first live radio Show on 89.5 Music Fm. I ve been booked to play for the Symbol Club Budapest and its 10th Birthday Party provided from Music Killers. What an experience. After landing we were picked up by Robert who drove us unexpected to the studio where I had a little live interview. So many creative and professional souls who are providing a really interesting and young radio program. Later we arrived in our Hotel Budapest Continental. We thought about going out and I got in touch with Budapests nightlife for the first time. I was impressed of the positive energy in this dynamic city. The people, the venues, everything is so alive. I highlight this because, exactly this dynamic is rare in relation to other european cities. We enjoyed our first night in a really cool music bar, unfortunately I forgot the name. The music and drinks were quite better than in some venues in Switzerland. The next morning the radio picked us up at the Hotel and we ate some really tasty local food in a fantastic hungarian restaurant. After an interesting conversation at the table we headed towards the Symbol Club at afternoon to do the first soundcheck. Symbol Club is one of the fanciest Clubs in Budapest with its two dance floors. After I checked the equipment with my own setup, I had a little time in the Hotel and waiting for the pick up for the live radio show, you can watch in the video on Youtube. The Music Fm studio is really nice located at the Danube river in an impressive high building. After the warm up radio show we had a little diner again in the city. The last meal before the Club show. Afterwards we had a brillant night till 05.00h in the morning. I played a 3 hour Show in the Deep Room and the closing set above. On a quiet and sunny Sunday we returned to Zurich and I appreciate this really rich experience for my DJ career with Budapest.

---
One day I got an email in my inbox. It was 89.5 Music Fm. This came in the right time after I had some bad weeks behind me. It lightened up my day, one thing led to another and I ve been booked in Budapest. Let me introduce:

In 2016 the Music Killers DJ Show kicked off a new era of music when Oliver Heldens, Don Diablo and Tiesto joined the crew from Budapest. Since then, they play every Saturday evening (20h) in the 89.5 Music Fm radio program, Hardwell every Sunday from 21h.
Music Killers is the only real live DJ Show in Hungary, where the most famous top DJs and real world stars are mixed together! With webcams it is possible to watch and listen to the Music Killers DJ Show live every day and to post on the 89.5 Music Fm Facebook page and ask the best DJs directly!

And who puts the Top DJs behind the turntables? It ´s Gergely Juhász! Music Killers DJ Show every night on 89.5 Music Fm!
---
Finally "The Box Music" was born in November 2017! We are glad that we managed over the time a professional DJ, Producer, Booker, Club and Bar network between Konstanz, Luzern and Zurich, operating in these cities. From House up to Techno DJs, from fancy Bars till big factory Club. We want to expand and welcome new innovative personalities and possibilities. Especially my have a claim for positive vibes networks.

Click here to get more info The Box Music.
---
After my residencies in Konstanz and Luzern and some guest gigs in Zurich (Gallery Club and Club Hard One) for a Zurich based party label, I was booked in a little dance bar in the heart of Zurich, parallel to the nightlife district "Langstrasse". in Les Garçons. A well known scene location for groovy House and Techno events. Because of my host experiences I started my own events in this location. "Our House" with various Co- DJs which I book myself and "Music. Is The Answer." with my favorite DJane Linda Grazia. We want to expand and I am excited where the journey goes to. No exclusive contract in Zurich.

Click here to get more info Les Garcons Zurich.

---
Very happy to play the first time high above the roofs of the city of lights! Penthouse Bar & Club in Luzern.  Part of the company Astoria where I am exclusive contracted in the area of Luzern. 360 Bar & Club. Must see if you visit Luzern.

Click here to get more info about Penthouse Luzern.

---
After collecting live experiences in Luzern, I got the chance to play in a big room club at the border of Germany and Switzerland, Alte Schachtel Club in Konstanz. High roof, large dancefloor, thats the factory hall with its timeless flair. You will find House & Techno basically. Contracted as resident DJ first, than host and DJ for my own event called Nebula Clubbing and Booker for my Co- DJs, various national and international DJs.

Click here to get more info about Alte Schachtel Club on Facebook.

---
After some months of mixing Deep House for my own, I got the chance to play in Luzern, in one of the fanciest dance bars in central Switzerland named Blue. Well known for its classic and modern House events. After my first play, i ve got a resident contract. I am very happy to be part of the DJ crew. In Luzern exclusive contracted for the company Astoria and their various locations bar & club locations.

Click here to get more info about Blue.